IN THE NEWS - This Week
America, home of the free, land of the brave... A place where on any given day of the week someone does something that makes the average god fearing human being stop and say...
"WHAT THE HECK IS WRONG WITH THESE PEOPLE?"

Man dies while having sex with Horse according to the Seattle Times
.
I know what your thinking, isn't that illegal??...NOPE not in Washington State, but they could get a person for animal cruelty if sex occured with one of the smaller farm animals present, unless he was of Asian decent. In case your wondering 33 states have laws AGAINST it...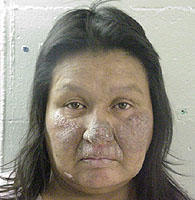 Oklahoma woman arrested for giving birth Drunk
.
This new mother split a case of beer with her boyfriend and told the nurse she was unaware she was pregnant. Mom was .32 and the child was .21 when born. Since it was girl I would suggest Olympia for a name, and since mom didn't know she was pregnant I assume the child protective services people can make sure the child doesn't even know this fricking moron was her mother...
Blind man has sex with guide dog according to Talahassee Democrat.

So our boy Alan Yoder is charged with a "breach of the peace", by engaging in sexual activity with a guide dog, cause guess what, Florida doesn't have, yup, poking the puppy is not against the law...I guess the weird part of this for me is the picture I have in my head of a blind guy stumbling around naked in the heat of SPCA passion calling out his the dogs name, LUCKY...
As punishment why don't they hire someone to rearrange his furniture once a week and not tell him...

T-Ball coach offers kid cash to attack mentally disabled 8 year old to keep him out of the game according to WTAE-TV Pittsburg.

Coach Mark decides he doesnt want to let the handicapible 8 year old play, so he talks not one but 2 teamates into beaning the kid in the head and GROIN for a payment of $25.00 before the national anthem can be belted out.
BOZO was charged with criminal solicitation to commit aggravated assault, corruption of minors and reckless endangerment. He's going to be VERY popular in JAIL...
I'm all too familiar with his type, I once got a technical foul called on me while coaching a Special Olympics Basketball team, seems the other coach thought I had an unfair advantage because I was directing my team a ways out on the court and not on the sideline like he thought I should.
Two minutes after the technical, one of my team members attempted to chew off the arm of an opposing player with downs syndrome then his own while i wrestled them apart...My counter part,seeing the scuffle said he was sorry, he didn't know, to which I replied, "WHAT PART OF EVERYONE WINS DID YOU MISS IN TRAINING?... some people just don't understand...
And finally, last week when questioned about the size of his penis on a television news program, Vice President Dick Cheney gestured (seen here) , then mumbled something about his support for Carl Rove...
Maybe next week things will look a little closer to normal, hahahahahaha WHO AM I KIDDING !