The Killer Rocks ON...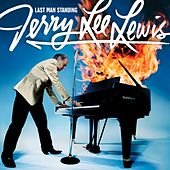 Jerry Lee Lewis is older and tougher than you. At seventy, he could eat your liver for breakfast, sleep with your kid sister and then burn down your house after a light lunch. So rounding up twenty-one heavy hitters (Mick Jagger, Eric Clapton, Neil Young, etc.) for a Jerry Lee Lewis duets album either means that they're paying their respects to one of the inventors of rock & roll, the wild man of the piano who came up with the sonic explosion that is "Great Balls of Fire"- or that they're just afraid of what Jerry Lee would do to them if they said no.
Most of the duets are on songs identified with the guests (a raved-up "Travelin' Band," with John Fogerty, a frontal assault on Led Zeppelin's "Rock and Roll," with a solo from Jimmy Page). Rod Stewart and Kid Rock actually trade lines with Lewis, and Bruce Springsteen seems content to do backing vocals on his own "Pink Cadillac," exhorting Lewis with "C'mon now, Killer!" like a rock & roll Diddy. Despite all the high-powered guests, Lewis stays in charge throughout Last Man Standing -- while his throat is in better shape than you might expect, most of his command now comes from the slamming, swinging passion of his barrelhouse piano. The best-sounding tracks are probably his duets with the country stars George Jones and Willie Nelson. Both of them are older than Lewis, so everybody just relaxes and enjoys being alive.